The Secret Chocolatier balances a lot of ongoing projects. Being a small family business means it takes us longer to make real some of those plans. This is one we are glad to finally get out there, a chocolate of the month club.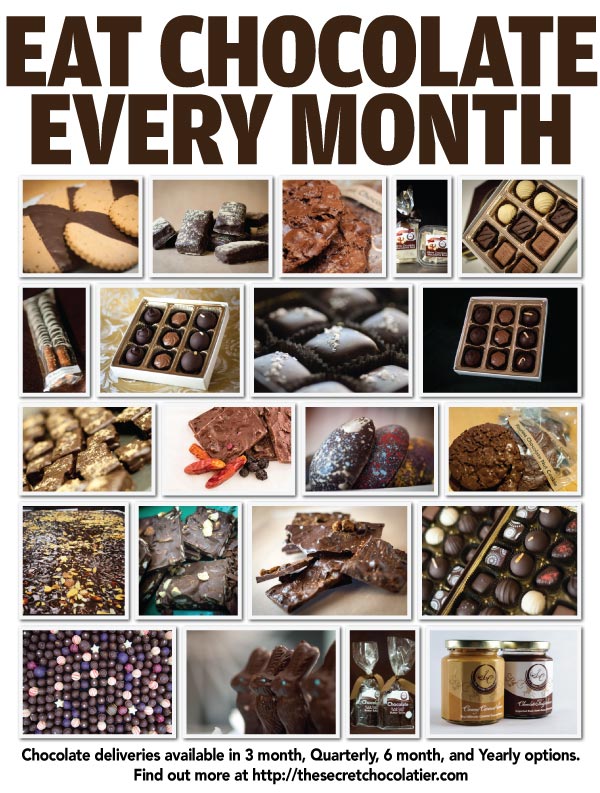 Building a Chocolate of the Month Club
Last year we developed a number of confectionary bundles to give you some of our best selections in well chosen, thematic chocolate laden packages. It was our first step into understanding what would begin to be a roadmap for us in developing a well curated monthly selection.
Combining preset chocolate bundles with our ongoing rotation of seasonal offerings gave us quite a lot of chocolate to work with. Then we had to find how much goodness we could package in a price point that felt approachable while also balancing the mean reality of shipping costs. We have found the best balance we could and hope you agree.
Chocolate Deliveries Every Month
It's easy to sate your chocolate need every month, or even better give this as a gift to a friend who adores high quality chocolates and confections. Orders ship on the 2nd Tuesday of every month.
3 Months of Chocolate : $127.95
4 Quarters of Seasonal Chocolate : $169.95
6 Months of Chocolate : $254.95
1 Year of Chocolate : $510.94
A look into what chocolates we'll be shipping. This list may change over time. We follow the seasons, our palates, and most importantly our customers. As we develop new items and find better fits we'll work them in and retire items. Year after year we should be able to surprise and delight your tastes.