2014 was crazy. Crazy all over the place. We had some crazy good times, crazy bad times, and somehow I think we're all ok. –let me check– toes, fingers, smile– yea I think we're ok!
Thank You Chocolate Fiends–er–Friends!
First and foremost we must say thank you. Thank YOU!
We are a company that serves the public's taste and you endear us with smiles, stories, ideas, and so much more. So again, Thank You.

The Chocolate Nucleus
Our foundation is built by Bill Dietz and he had a tough year being the bedrock of the company. His sheer determination and never backing down spirit kept us afloat when we were stretched thinnest. Saying thanks is not enough but I hope you'll give him a wave or smile next time you see him. He is the true engine of our little company.
Robin Ciordia has had so many hats and has worked tirelessly for us in so many facets. Without her we wouldn't have the business we have. We wouldn't be the business we are. She's high leveled–planning and executing business development. She'll roll up her sleeves and make anything in our product line. Handles all of the employees, interns, and family (oh how she handles us!) Humble enough to load up a car full of cakes, toffee, and anything else and be our delivery person. Oh–and how can we forget, she's a parent too!
The grandmother to everyone, she'll take your order, thoughts, cares and return smiles and stories, Karen Dietz is everyones friend. On top of that she's really blossomed into our shipping director. We have many sales channels online and she preps and sends nearly all of them.
On top of that foundation we have to give thanks to those who have worked with us.
Abby Wells, a rising rockstar in so many ways. She has become indispensable in keeping things moving forward and brings quick smiles and levity when the pressure is on.
Jamie Adams, a global phenom, story teller and friend to all. Speedy in our middle of house and a joy to customers in the front. Oh and she can rock some brownie pops.
Lell Trogdon helped us launch not only our first cafe placement years ago but she launched our new location. A coffee and culinary wizardess she got us properly setup and is now teaching her own classes and recently published a book on her own small business trials.
Theresa Hemingway joined us recently and has been a joy to work with. She's got a knack for knowledge and loves to acquire more. She then spins what she learns right back to us in new thoughts, techniques, sales, and more.
Interns & Volunteers
From culinary institutions to our humble call-to-arms in our busy seasons. We have a great appreciation of those who share their time with us.
Alyson
Laura
Sharee
Kailyn
Emily
Nicolette
Melissa
Mariah & Millie
Jane
Daniel
Rick & Page
Ray
Tristan
Tamela
We keep everyone busy and fed well with chocolate. Their help makes it possible to get everything done.
Business Lessons for 2014
What a year. With great planning we entered 2014. Mighty goals and plans that were quickly thrashed about. If the universe wanted to teach us some lessons we were certainly apt to listen and learn.
Mother Nature always wins
February froze us out and we lost our Valentine's sales. (roughly 30% of the year.. amazing!)
Situations change radically, strategies and tactics must stay agile
We had plans and when they irreversibly went awry it took us some time to figure out a new path forward. Like a sea captain in caught in a storm we were constantly seeking safe harbor, dodging high seas and reefs.
Loans may save you, but sink you later
Taking on debt will fix a short term problem but create a lot of drag later that will cause cash-flow problems.
For insurance sake understand your business pipeline
Catastrophic insurance will require you to know many things about how your business profits and the costs that lie in each stages potential loss. If one link in the chain falters, what will that mean to your cash-flow in 7, 30, 60+ days?
With our ongoing transparency these numbers quantify our world. They are an approximation since there are multiple sales channels and the data sometimes too obscure to tally. Regardless for us internally it is the sum of effort, of creation, of that which we labor. Comparing to last year we're still growing and that's what counts!
37,000 Chocolate Truffles (1,100 lbs)
1,210 lbs of Toffee (19,000 oz)
7,000 Bon Bons
8,000 Caramels
750 lbs of Chocolate Barks
2,900 Enrobed Brownies, 750 Brownie Pops
80 Cakes, 300 Cake Slices, 300 Cake-in-a-Jars, 170 Chocolate Oblivion Tortes
900 Coconut Macaroons
750 Chocolate Dipped Graham Crackers
1,400 Marshmallows
1,800 Chocolate Solids/Shapes/Lollies (120 lbs)
750 American Artisanal Chocolate Bars
1,100 Coffees/Cappuccino/Lattes
200 Hot Chocolates / Sipping Chocolates
 2014 Awards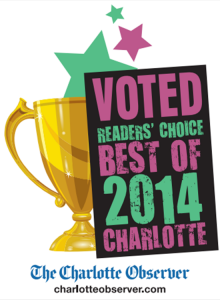 Recognition always does your soul good. We were happy recipient of multiple awards this year thanks to our patrons and editors keeping their eye on us. We'll keep on pushing quality and hope for more in 2015!
Elevate Lifestyle, Best Chocolate Heaven
Charlotte Magazine Best of Best (BOB) Award, Fancy Chocolate
Charlotte Observer Readers Choice Award
Time Warner Small Business Big Impact Award
TasteTV Chocolate Awards

White Chocolate Cardamom Crunch Bark
White Chocolate Toffee
Sea Salt Toffee
A Look Ahead, 2015
We have so much cooking its hard to get a gauge on what is coming. We're really trying to grow while stabilizing where we are, bring on more people to help with the efforts, and find our way further into sales channels. We've also got a number of new products to finalize which we hope will find great homes in more happy bellies.
We're always inspired by you all so if you have thoughts for our us or our growth let us know and please pass us along to those who don't know us. We love meeting new people!
Thanks as always and have a very happy 2015!