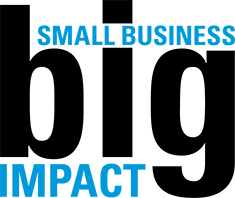 The Secret Chocolatier is a bridge of old world skills, new world flavors, and bound together with an assortment of technology. We're a modern contraption run by family and great employees.  We often have the discussion of how would we have survived without the amount of technology we implement. From storage, sharing, social media, project management, email and more. We tie our two stores and production together with fiber optics.
Time Warners Small Business Big Impact contest was a short essay on what technology you implement day to day that helps you get through that day. With the obvious idea that Time Warner is the highway you travel to get it done. I thought this would be a breeze. Without technology we'd be back on notecards and relaying faxes, couriers, or a lot of time on the phone trying not to get the messages distorted. Funny enough we still have some problems, human problems, interpretation is a tricky beast. Maybe in Web 4.0 that will get cleared up. #grin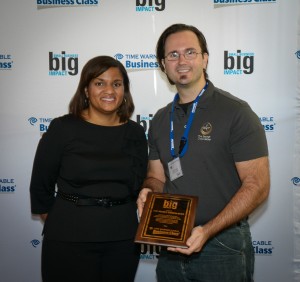 The Secret Chocolatier Loves Technology
From the physical stores to the datasphere we love our technology.
Point of Sale: Square
We process all of our transactions through Square.  We have their stands integrated in our shops and have been impressed as they continue to evolve giving us better and better tools to try and understand tactically where we are so we can build a better strategy for our sales. We always have hopes for new features to help run multiple sites but they continue to feed us lots of new additions which is great. They also began a capital program to borrow money from your future sales which we also had to tap this year to help us squeak by a tight spot.
Platform: Apple
A quick shout out to Apple as our platform of choice. iPads are the registers. Many iPhones for work on the go (or quick to take inventory) and desktop and laptops for getting the heavy lifting done. We're an Apple family and happy to be productively so.
Shared Documents/Email: Google Business
We were one of the lucky many who were able to take advantage of Google apps when they were still free for small business as they have become the backbone of our infrastructure. Our emails zing back and forth and with Google Drive holding our shared spreadsheets and docs we all can be a part of honing the message or tracking inventory. Best of all, its accessible anywhere, on or offline. Very helpful.
One of the newer additions to our office repertoire we decided that when we were going to split the family up and have two stores we needed a way to focus paper. We had been using Evernote loosely, then picked up their branded scanner and we've been addicts ever since.  If it comes in as paper to either shop it gets scanned and then trashed. I can pick up bills, missives, business cards, and easily add information, tag them, process and send to places like Xero or our billpay Bill.com.
Project Management: Trello
Project management was never this easy. If you can work with notecards you can work with Trello. We setup boards for the kitchen, locations, marketing, and more. Then within those boards we create lists from production scheduling, shipping, tactical and strategic planning new initiatives and more. Hard to explain, easy enough to try it out and see for yourself. Accessible from the desktop and all major phones you are never far from knowing where you should be.
Cloud Storage: Dropbox
There are many storage solutions out there but we still like Dropbox as our main repository of file knowledge. Brand, image repositories, documents of all shapes and sizes organized and shared prodigiously between machines and the cloud.
eCommerce: Shopify (and the legion of Add-ons)
We were with Shopify since their earliest days. Every week I am trying to understand eCommerce. It's a never ending struggle to get right, and as soon as you do it's effervescent and can disappear without further work. Shopify makes it rather easy though. Easy to setup a store, easy to manage your products, and with as I mentioned in the heading–a legion of add-ons you can partner with to extend your shop into whatever shape or need you might have.
Finance: Xero
We've been around the block with finance software. Spreadsheets, Quickbooks desktop & cloud, we finally settled on Xero. We like upstarts and Xero is trying hard to make a competitive platform to the big guys and we've seen them blossom quite well. We've also had fun being one of their testimonals when they worked their way into the Square platform. See my 2 minutes of fame here.
I can only be so many places at once and running to the mailbox just begs for me to forget to send something important. Enter Bill.com, we started with them in their formative years. They had a nice way to send out and pay for bills. Many banks may do this but none of them integrate well with anyone and getting information on your payments is often out of reach also. Bill.com has been a bunch of great people and I hear they are about to enter a new phase of growth we wish them well on.
We have used MailChimp since their earliest of days (see this trend of early adoption?) Ben and his team at MailChimp has made some of the best newsletter software out there and I've tried a host of them. Easy to build, send, track, analyze, wash rinse repeat. If only I had more time to use the medium. They also have a free tier which can capture so much of your early stage business you can't really want more.
Content Management: WordPress
One of my other jobs in life is a WordPress developer and brand strategist. Fun stuff. I've been installing and operating WordPress for a long, long time. All of our content here is run by wordpress and their opensource + great community = fantastic flexibility.  If you're looking for a platform to host your content look into WordPress.
Social Media: Facebook, Twitter, Pinterest, G+, Tumblr & More
They ebb and flow but we try and have an outpost on many of the popular social platforms. Our business was built from the grassroots and we enjoy holding a conversation wherever it will happen. You can find many of our links scattered around this post so I won't dither on where to find us.
The Ebb and Flow of Services
Writing this out even I'm taken back by how much we've grown since we started. We've always used technology but we use quite a bit of it to get the job done these days. There are many more ancillary services we use. Some tied into the above services, others standalones that give us more insight or efficacy but these are probably the heart of our workload at the moment.
I'm always looking for ways to make us more efficient so we can work harder. The adage work smarter not harder is false. However we always need to be doing more and to do that we need to be doing things as intelligently as possible. We are grateful for developers who feel our pains and build tools small businesses can use and we hope to continue empowering them for future releases.
We are glad that we won our award for use of technology in the small business sphere and hope it can inspire you to do more while keeping budget minded.