October is the month of Caramel thanks to the National Confectioners Association and The Secret Chocolatier has what you need. First a quick dive, caramel–it can be soft, tacky, runny, buttery, crunchy, crackly–you can caramelize sugar or you can caramelize dairy/milk. I caramelize sugar to create a sugar syrup (shared below) as a part of our modified caramel sauce used in our cafe's caramel lattes. Chef Bill caramelizes dairy to create milk caramels we wrap in dark chocolate with sea salt or milk chocolate for a soft to the tooth caramel experience. However you can't caramelize both at the same time with risk burning one.
Caramels
Soft to the tooth, made in small batches, our caramels are delicious and sell out weekly. Both of these caramels are a milk caramel creation and thus creamy yummy.
Crunchy Caramel–Butter Toffee!
Awarded 6 times in 2014 alone our butter toffee is amazing. It's crunchy but doesn't stick to your teeth. Whether you like it sweeter or with a dark salt fix we've got your number.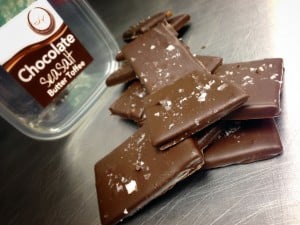 Caramel Sauces
Our caramel sauce as a standalone could help you survive isolation on an island. When you put layers of cake and white chocolate buttercream between it all you have something that will have you locked into your couch until the next morning. Sinnfully scrumptious you should give these a try.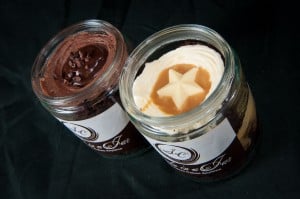 Enjoy Caramel Month
October is a month known for its cheap candies so whatever you do, whosever caramel you choose to enjoy make sure its a great quality so your belly will be as happy as can be.
[hr]
Simple Salted Caramel Syrup Recipe
In our cafe we serve a caramel latte. It is a combination of Chef Bill's ultimate caramel sauce and a near-burned caramel syrup. We require both because standing up in milk is not easy. Taking the buttery mouthfeel elements of our caramel sauce and a punched up caramel syrup creates enough body, texture, and taste to serve well in a milk laden espresso drink. I make this by nose and eye and as an experiement I think you should too. Adds more fun to the creation. You can always go get the temperatures later but there is something fun about using your senses instead.
To start we'll keep this small, you can scale it however you like.
1 cup of sugar
(white/cane/unrefined/any should do–it has to be sugar, not a substitute)
1/4 cup of water
(to scale this recipe you just want about 20% of your sugar volume in water for saturation)
1 tsp vanilla extract
(can be left out, I like the few aromatics it adds at the end)
1 cup of water
(set aside for thinning syrup)
1 tsp sea salt
(salt is not necessary but it does create contrast thus making sugar sweeter)
Read the following before you start so you have everything in place and know what you are in for!
Set aside your additional cup of water.
Have a high heat spatula or wire wisk.
In a medium sauce pan add sugar and water bring to boil under medium-high heat. Stir occasionally to make sure the water and sugar have full integration. Once this is done stop stirring. Turn heat to high.
During this process the water is going to be evaporating off, bubbles are tiny and fast. As the process continues and most of the water has gone the bubbles will get larger and slow down. This sugar is going to be dangerously hot.
As the mass of caramel syrup begins to really show itself the edges of the pan, or currents in the syrup will begin to caramelize and turn shades of amber. You are now entering the final and most important stage of caramelization. Don't look away.
The entire  pan will go yellowish and darken progressively towards amber and browns. Use your eyes and smell. What was a pure sugar smell at the start will become a definitive caramel.
A note about carryover. The pan is hot, very hot, hotter than the contents inside. Knowing this when you find you are approaching a color you want to try, a smell you are enjoying, pull the pan off the burner. The cooking process will continue but slow and you have a moment more of control.
At this point you can also add your salt.
As you are ready set the pan down on a heatproof mat or on a burner you are not using. This part will be splatterful, steamful, and a bit of a show. Carefully add your first dose, about a 1/4c of water to your caramel mass. S—T—E–A–M!  Being careful swirl this around with your whisk/spatula, continue adding at doses you feel comfortable with all the while combining the thick syrup with water. This is a process of cooling and diluting.
Caramel Syrup Happiness
Once you have a certain liquidity you think you are happy with step back a moment. Drink some water yourself and enjoy that smell. Now swirl your syrup again and add your last ingredient, vanilla. The syrup may show thickening, are you still happy with it? If not add a bit more water. If you are let it cool completely and then put in a vessel you like.
Storing Caramel Syrup
The caramel syrup is a sugar creation, meaning mold growth is inhibited and with no ingredients that can go rancid. Keep it at room temperature and in a squeeze bottle for easy access and pourability for topping ice cream or adding to your coffee.
A note on cleanup, for an easy cleanup just add your sugar pots and tools to some hot water and let soak. The sugar will dissolve and your cleanup should be a one wipe and done. If you try and force it you'll exert a lot of energy.
Enjoy!