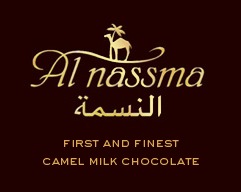 Normally I only review American chocolates. It's the main body of who we support but when a friend brings me a bar during his travels abroad that is outside of our cultural tastes I felt it entertaining enough to put it through the paces. After all, who here in the states is making a camel milk, chocolate product?
In Arabic it means the drifting breeze, and this chocolate company with wind etched bars brings that meme along.
Made from camel milk and finest ingredients like genuine Bourbon vanilla and pure cocoa butter, Al Nassma chocolates symbolize the discerning taste of the Arabian world and a unique and halal quality product. For travelers looking for a distinctive and delicious gift, Al Nassma represents the refined elegance and luxury of Arabia. — Al Nassma
Decor

A little thicker chocolate bar at nearly 1/2″
Molds use a dessert wave pattern and have the Al Nassma / Camel logo imprinted
Clean and shiny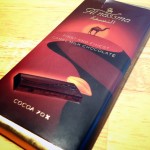 Temper

Bar has a nice crack to it, a little softer than some dark bars. Probably the milk content or travel wear

Aroma

A classic dark milk scent
Nothing broadly distinctive

Taste

Simple on the palate
Not a real bright bar or much flavor beyond some classic milk/dark milk concepts
A little nutty perhaps
Darker wave of flavor between the line.. not sure if its the milk, the beans.. very hard to discern

Body

First blush I wonder about a heat stabilizer–took a little longer than I expected to melt down
Real creamy texture on full melt

Aftertaste

Not much lingers
Clean profile
Left with maybe a flavor akin to a Costa Rican coffee–again nutty-ish

Notes

This is a tricky bar. I'm used to bars, even in their dark milk profiles to exert a certain amount of acidities, flavor profiles that have some definition. This bar really does not. If I thought this bar was going to have uncertain flavors like Askinosie's goat milk, or Olive & Sinclairs buttermilk I was not.
What is camel milk after all? I have no palate built to discern it and obviously it has been sublimated so well in this blend that any origination characteristics are either very close to our classic bovine products or they have been eliminated in the process.
For a dark milk chocolate at 70% it seems milkier/creamier than that. Probably leaning to the fact that the bean source is pretty homogenized.
This was a fun little romp. I expected more, but them I'm used to individuals pushing boundaries. I really thought camel, whatever that really means, would have pushed the flavor-scape more as well. For those looking to pick up something unique in essence this bar is safe for just about everyone. Don't let the 70% fool you, it's simple and safe on the palate.
It was enjoyable getting back to another chocolate review and I have a number of American producers I've been meaning to get online so let this be the impetus to start that process again. If you know someone I should try, and perhaps carry at The Secret Chocolatier get in touch.