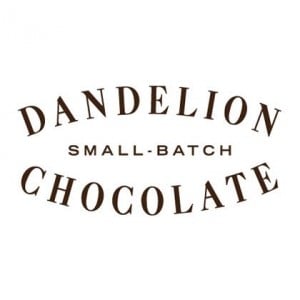 We recently had a visit by our friend Lowe from ChocoFiles. The man has reviewed and tasted more chocolate than maybe anyone, so when it comes to his recommendations I listen. After spending some time in our shop he gave me a list of new artisan bean to bar makers I had to check out. One was Dandelion Chocolate out of San Francisco.
Dandelion (creators Cameron Ring and Todd Masonis) has a neat story in that they were ex-tech heads from Plaxo  that sold out and followed a more tasty passion.
Their current offering is quite nice. The "Ambanja, Madagascar", "Colombia", & "Ocumare, Venezuela."  All abundantly qualitative.
On a prior review of a Rogue's Madagascar we found that the Sambirano valley was producing some juicy terroir and the Ambanja region which is a bit north, north-west from Sambirano is having a similar profile and I am loving it.
Dandelion Chocolate Ambanja, Madagascar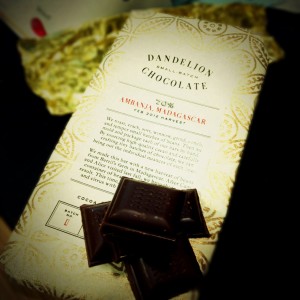 Decor

Thick paper
Beautiful metallic shine
Something vintage, something new
Simple wave design on chocolate
Chocolate is breakable in 1″ x 1″ squares

Temper

A great temper, beautiful snap/crack

Aroma

Clean smell
Hints of a bordeaux-like wine cork

Taste

Immediate hit of flavor, citrus
Flavors run all around–

Pink Grapefruit
Black Berries
Tart Cherries
Oak

Salivatious!

Body

Smooth coating
Almost milk chocolate in body in how creamy it delivers

Aftertaste

Clean, very little body or mouth coat
Very mild tanins
Lingering dark fruits

Notes

As this chocolate is being eaten, and your mouth sweats from the burst of flavor you have to consciously slow yourself down from devouring it. For whatever reason you want to rush forward with haste when the opposite is what you need to do. Stop. Roll your tongue, enjoy this flavor-expansion and smile.
As an aside I noticed that my afternoon palate had more flavor come out than my morning palate. Your milage may vary but it is something to take into consideration as you sample your chocolates. Try a few times throughout the day on different days to really see where the profile is at its peak.
This bar is just marvelous; really Dandelion is doing a bang up job on their product and I hope to review their Ocumare soon.  In the shop  I consider this to be a bit exotic and adventerous since it really packs a flavor punch which as many of you know from my prior reviews, I search for.  If there was a more comfort need their Colombia chocolate is perfect for you.  For me though, make me think I'm eating a new line of Chocolate Starbursts or some great vintage chocolate wines and you've got me.  I love layers of flavors.
Dandelion Chocolate: Ambanja Madagascar
Dandelion Chocolate from San Francisco is producing some beautiful chocolate bars. Andy from The Secret Chocolatier profiles their latest entry.
Dandelion Chocolate: Ambanja Madagascar
Date Published: 08/08/2011
This bar is just marvelous; really Dandelion is doing a bang up job on their product and I hope to review their Ocumare soon.