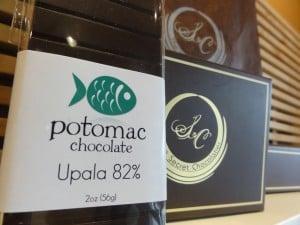 As mentioned previously we're aiming to host some beautiful American chocolate makers and Ben Rasmussen of Potomac Chocolate is no exception. Located in Woodbridge, Virginia this one man band is pouring his passion into something delicious. He hasn't been in the game terribly long, starting in 2010 but he has entered the fray like a man on a mission.
Potomac Chocolate Upala 82%
I chose to go with his darkest varietal first because I found it bold, and I'm gravitating towards bold chocolates right now as they really drive me inwards on a journey of explosive flavors.  Ben's 82% is just what the Doctor ordered.
Decor

Simple and to the point
Potomac's bars aren't given too much treatment on the molding and why waste time early in your career building special designs when the product is the real key

Temper

Oh Snap!  Ben has his temper really dialed in. Breaking the bar even along the score lines create a satisfying snap and biting into a chunk is no different

Aroma

Nice dark cacao comes through
A nose of something berry

Taste

Striking early tanins–almost bitter but fades very quickly.
Broadens into some mild sweet tobacco
Loads of red wine comes to mind, Sirah maybe a Malbec

Body

Creamy & thick but not overly so
Almost caramel like in it's full melt consistency

Aftertaste

Smooth
Left with a clean chocolatey
Body washes into something lightly lingered but the weight is gone
Breathing even minutes later you can still sense the wine/berry

Notes

Depending on time of day this chocolate seems to evolve. Most times its very bold and hits you full on.  Sometimes my samplings have made it more subdued but it is rare.
On a percentage basis this chocolate is probably one of my current favorites.  It's flavorful, dark, bold, and the bitters are so far removed it's really amazing at 82%.
Ben's current offerings are all centered around this Costa Rican bean and I look forward to how he chooses to obsess–I mean diversify in the future.  If his palate and techniques continue to evolve I think we'll be treated to some fabulous fare for quite some time to come.
To find out more you can support him directly at
Potomac Chocolate
 or if you are in Charlotte and looking for  chocolate visit our shop for his offerings.