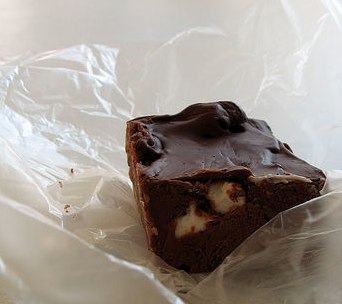 Simple, scaleable, and delicious. This chocolate fudge recipe comes from a book I can no longer recall but I can remember the recipe by heart. If 2 pounds of fudge is not enough simply double the recipe and you should have more than enough for yourself, family, and friends.
Recipe for Fudge
6 oz – Evaporated milk
1 & 3/4 cups sugar
1/2 teaspoon salt.
1 1/2 cups marshmallows
1 1/2 cups semisweet chocolate chips
1 teaspoons- vanilla extract
Optional
Directions
Combine evaporated milk with sugar and salt
Bring to boil, reduce heat, simmer for 5 minutes
Remove from heat and add remaining ingredients
Stir until marshmallows melt
Pour mixture into buttered square pan (9inches)
Cool.
Makes 2 pounds.
It just doesn't get any easier than that.  What are you waiting for? Go toss this together and enjoy some chocolate fudge!
Got a variation?  Let us hear it.  Always neat to know how you are doing it.
If you think this is good, try our chocolate fudge sauce.  While it can be eaten straight out of the jar, heating it up makes for an awesome topper or dipping!