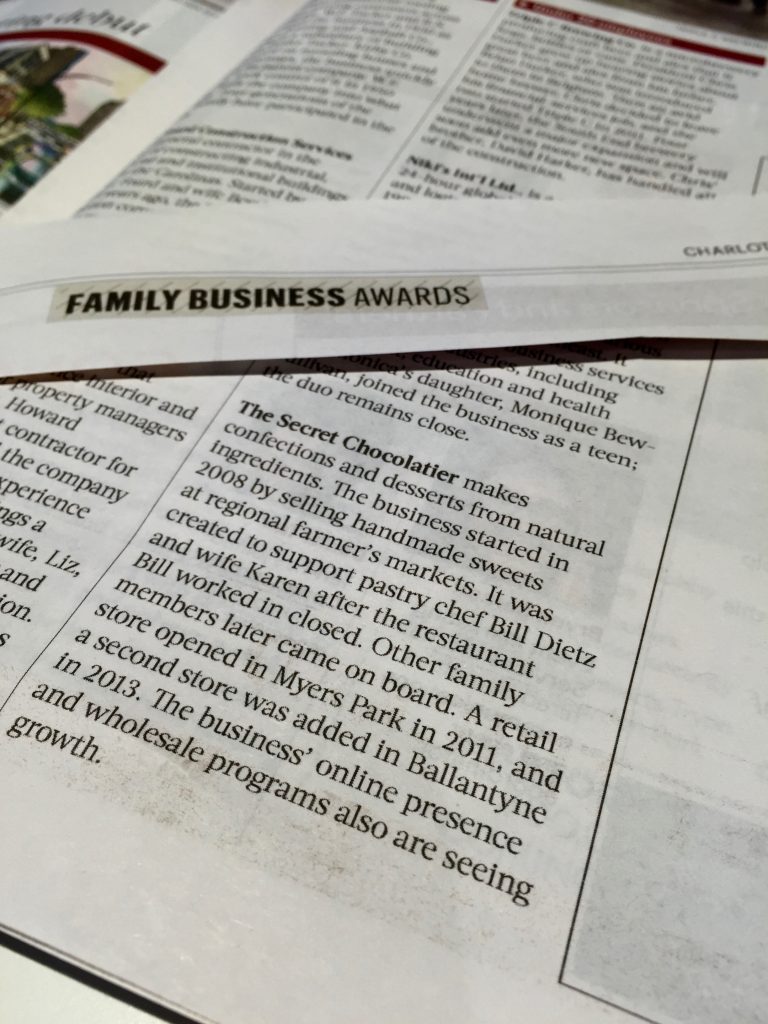 The Secret Chocolatier was recently a finalist in the Charlotte Business Journal's Family Business Awards. It's nice to have our family recognized. It takes a tremendous amount of energy to work with family members. No one is the same, a business is a business, and a family is a family, different rules of engagement when they are by themselves. Combine them and you have even more considerations in the day to day operations of both.
We didn't take home the award this year but it did go to Hodges Family Farm, and as Slow Foodies we're happy to have had a farming family take the prize. We thought it would be nice to share some things we've learned along our 8 years of working together.
3 Survival Tips for a Family Business
---
#1 Give Each Other Space
To know if you are going to be a good family business go on a week long camping trip. It's not a perfect litmus test but a lot of 'tells' would show up. As a family business you might live together, you work together, you think and strategize together. That's a lot of being together. The Secret Chocolatier has expanded far enough where we can orbit each other with a bit more space involved but in the first few years, we were on top of each other. While we might have a great deal of communication bad days happen and when they do you have to give each other space. It's very easy to escalate the simple into something that becomes untenable. Everyone needs some breathing room, so make sure to give it to each other.
#2 The Art of Compromise
A family business is of delicate accords. Working around each other's idiosyncrasies to accomplish goals bigger than any one person. In a normal corporate environment if you can't get along with others your head is usually on a chopping block. In a family business, you have to find a path to compromise. What does that mean? It means you have to work extra hard at finding assignments that best fit the individual. If you want to see goals accomplished you have to have a good alignment of what a family member likes to do. If it doesn't it won't get done. Excuses and reasons pile up while the task languishes, frustration grows, and once again you're having an argument that should never have happened.
Opinions also have their place and it's good to let everyone have 'wins.' Being heard is one thing, letting someone have an effect on outcomes bolsters their moral which in turn spreads to others. If you are weighing options, even if it is not the soundest idea, let others have participation in the outcomes. If it's a good idea, then everyone benefits. If it doesn't pan out in the end, use it as a lesson. Raising a business with a family is more like child rearing.
#3 Let It Go
Then you have the times when there is no compromise, energy is high, emotions are running counter to intelligence. Sometime's it's good to just let it go. Ask yourself, 'will this matter in an hour?', 'a day?', 'a month?', 'next year?' Unless what is going on is going to create a titanic mess just let it go. Otherwise, you have a strong potential to wreck your family relationship.
A company may come and go but our time with our families is finite. Burning relations with your relations is tough to come back from. So, if the tension get's out of control–let it go. Table your thoughts, walk away, find something to distract you and come back to what is making the issue so prickly later.
You can always see more clearly after the emotionality of it all drains away a bit. Which goes back to #1 and giving each other space. Family business has a lot of circular argumentation to it if you haven't picked up on it.
A Family Has to Have Lots of Love
This isn't meant to scare you but make you honest with yourself and your endeavors. A family business is very tough in the best of times. It can end families in the worst. Have lots of patience, love, and honor for each other's skills, positions, boundaries, and intelligence. I am lucky to have a family that does this most of the time and am very lucky to have them both as a family and as partners.