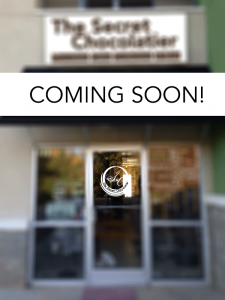 It's an amazing time at The Secret Chocolatier. We began to grow with a wonderful intern named Abby, picked up our first part-timer Natalie, continued growth of friends and family participation…then something unexpected happened.
We were approached to pick up a space in Ballantyne.
Think Chocolate's space to be exact. We hate to see a comrade in arms, especially one making such great inroads in the city, have to leave but we hope we can do the space and the area proud with our families involvement.
Plan…B…C…D?
The last two years in retail have been wonderful for us. We've synchronized well as a family. Grown our product line based on customers desires. Won multiple awards for our tasty confections and chocolates. Expansion though? That was being talked about as a daydream, a pondering chat we'd carry on during work or a meal. Maybe an industrial space that we could have all the room we wanted to run large toffee batches, bigger enrobers, maybe even make our own chocolate. Or perhaps we would push further into Charlotte and nestle into a place we can create plated desserts–really use some of the broad skill level Chef Bill has to offer.
However we never anticipated the chocolate opportunity before us.
Chocolate Opportunity Knocks
Opportunity knocks when you least expect it and rarely in the path you might envision. Be ready to pivot for it is something we've learned in the last 5 years. We've had to stay flexible, very flexible, every step of the way. This new endeavor is no different. Bend with the wind and enjoy great chocolate!
Our new space will offer us the ability to serve the Ballantyne area with our chocolates, confections, cakes, and potentially much more. With coffee service builtin and coffee geeks behind the helm it will be fun to bring better espresso into the area.
Opening Soon
We're running ahead at full speed trying to get ourselves set for a quick opening. Expect to hear more in the next few weeks!