Recently I was asked to share our easy chocolate fudge recipe for an upcoming magazine article.  I thought sure, then paused.. well we haven't made that in a while so maybe I should do it again just to make sure it still was quality enough to share.  It was just as easy as I remember Bill teaching me and I forgot how chocolate creamy delicious it was.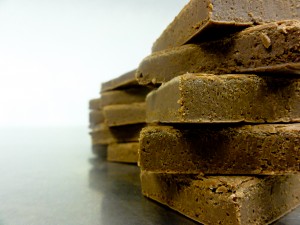 Great for Kids
If you're looking for an easy chocolate fudge recipe that the whole family can handle this is it.  Guardians watch the pot and let the kids measure ingredients and help stir. Kids are also easy taste testers and it is rather safe since once you've removed the heat and stir in the last ingredients (which are cool/room temp) the temperature drops to a very safe touchable, eat-able degree.
Easy Recipe for Chocolate Fudge
Prep time is 3m, Cook time 5m, Cool time 10-30m (depending on batch size.)
6 oz Evaporated Milk
1 & 3/4 cups Sugar
1/2 tsp Salt
1 1/2 cups Marshmallows
Note: if you make your own marshmallows, add a 1/2c more or the fudge will be a little soft. You can leave it exposed for an evening and natural evaporation will solve this "issue" 
1 1/2 cups Semisweet Chocolate Chips
1 tsp Vanilla Extract
Optional Add-ins
2/3 cup Chopped Walnuts, or Tart Cherries, or Coconut.. You get the idea.
It is very flexible in what can be added–just take it in a direction that your palate would enjoy!

Directions
Combine evaporated milk with sugar and salt
Bring to boil, reduce heat, simmer for 5 minutes
Remove from heat
Add chocolate & vanilla
Stir until marshmallows melt
Pour mixture into buttered square pan (9 inches)
Let Cool
Makes 2 pounds and the recipe scales so double it up for more, half it for just a personal treat. It really doesn't get much easier than that!