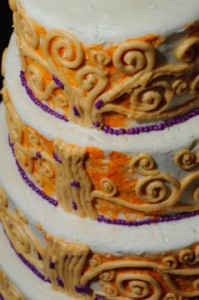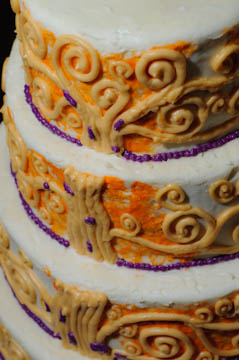 Our family friends daughter was married a week ago with another lovely chocolate wedding cake.
Beyond the joy and happiness of bringing our work to another we were happily surprised to see our work in the New York Times recent Style / Weddings: Mary Ziegler and John Roberts III.  It's an adorable story highlighting how the two met through Craigslist.
Mary's cake though mentioned a number of times missed citation of who made it, which while disappointing, we're rectifying through our own additions!
Chocolate Wedding Cake Design
After our interview with Mary an 8 layer, 4 tier chocolate fudge cake with cream cheese icing was slated to be built.
The cake was designed after the Tree of Life paintings by Gustav Klimt.
Bill spent about 16 hours just in the kitchen getting this beautiful cake ready for it's presentation.
Everything was delivered to Rock Hill, SC with no problems at all.  The 'Sofa' topper was added and all the families were very happy!
If we can help you with any wedding chocolate from favors to chocolate wedding cakes, contact us!